It has been a wild and crazy week or two! It started with a visit to the ENT. It turns out that Cam's persistant problems with his left ear were actually one ear infection that refused to heal! The doctor recommended placing only one tube in his left ear. He did a few tests to be sure that his right ear was as healthy as it appeared. All tests confirmed his thoughts, and we scheduled Cam for surgery the following Tuesday.
Saturday the seventh we celebrated My sweet baby's first birthday with our family and a few friends. The party was wonderful, and Cam had fun being passed around, and loved on. We went with a puppy dog theme, and my sister made an amazing cake!
Tuesday the tenth Camden was scheduled for surgery :( I was a nervous wreck! We all got up much earlier than anyone in our family does, and headed to the hospital. Camden was not thrilled about being up so early. He wore his jammies, and got to stay in them for the procedure. Getting a tube placed in his left ear was far less invasive than I had thought, thankfully. Fifteen minutes after he left our arms, he was brought safely back to them. I can not express the relief I felt in my heart to have him back in my arms. He was a bit fussy, but mostly sleepy. We were released immediately, and headed home. All three of us slept for three and a half hours, and woke at noon. Camden continued to be groggy for the rest of the day, but woke up refreshed the next morning.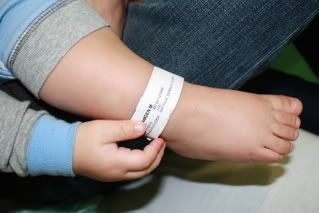 Thursday the twelfth, my sweet little Camden turned one year old! My goodness, how fast the year flew by! I am amazed by it! It is quite a bittersweet feeling. He is our baby, and always will be, but now he is also our toddler. We had a wonderful day! I had to go to work for a few hours in the morning, and Camden and Aaron played for a while then took their daily nap. I got home at about one. Camden and I went to the park for a few hours, and had a blast. Then we went over to Grammie's house, and had dinner and a small cake for Cam.
Thursday night Camden went to bed late at ten, but amazingly did not wake until eight the next morning!!!!!!! Woo hooo!!!!!! Finally it seems he is going to be able to get some reall sleep! He repeated it on Friday night, and slept from 9-9. Tonight he went down at 8:30, so we will see how the night goes...... hoping for a repeat!